Meet the Dentist at Sleep Dentistry Erie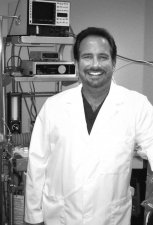 Dr. Kevin Mahoney
Over his 34-plus years in practice, Dr. Kevin Mahoney has been passionate about two things: being a dentist and making it easier for those with dental anxiety and/or phobia to see the dentist. With the knowledge of oral health's importance to one's overall well-being, Dr. Mahoney could not leave these patients behind. Patient comfort and pain control became his primary motives, leading to an interest in dental anesthesiology.
Dr. Mahoney received his bachelor's degree from Erie, PA's Gannon University before earning his doctorate at the University of Pittsburgh School of Dental Medicine. From there, he underwent anesthesiology training at the Long Island Jewish Medical Center and Schneider's Children's Hospital in New York. Today, he is the only dentist with an unrestricted general anesthesiology permit in the Erie area, and one of only approximately 300 dental general anesthesiologists in the US. He is ADA certified, with extensive professional experience in the areas of pediatric dentistry and special needs dentistry, specializing in both restorative and cosmetic dental treatments.
When he is not on land at his office, Dr. Mahoney enjoys taking to the air in his plane or to the water in his boat. In tandem with his four-legged partners, Dogtors Gizmo and Gadget — who specialize in patient cuddles and hugs — Dr. Mahoney is also dedicated to the cause of animal rescue, raising funds for local animal shelters.
Whether you are a new patient or have been one for years, your visitor experience and dental health are our top priorities at Sleep Dentistry with Dr. Kevin Mahoney.