Meet the Newest Team Member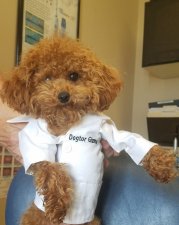 Dogtor Gizmo THD
I am a Dental Therapy Dog that loves to make people smile! I work at Sleep Dentistry Erie with Dr. Kevin Mahoney. My job is to help patients with dental anxiety and phobias get through their dental treatments with hugs and cuddles. I would also like to visit sick children in hospitals and lonely Seniors in nursing homes. Come see me at Sleep Dentistry Erie for your next dentist appointment with Dr. Kevin Mahoney!
Schedule an Appointment
For inquiries, cancelations, or more information, please call our office at (814) 833-3505.
Click for more information about insurance financial assistance.