Meet the Newest Team Member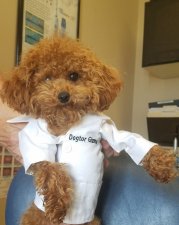 Dogtor Gizmo THD
Hi, my name is Dogtor Gizmo and I am a dental therapy dog who loves to make people smile! I work at Sleep Dentistry Erie with Dr. Kevin Mahoney. My job is to help patients with dental anxiety and phobias get through their dental treatments with hugs and cuddles. I also like to visit sick children in hospitals and lonely seniors in nursing homes. You may also not know I am a bit of an entrepreneur! Each year, I sell calendars to benefit local animal shelters so my fellow furry friends can find new homes.
Most of the week, though, you can find me at the office! I would be happy to hang out with you at any point before, during, or after your dental treatment. Not to boast, but dental therapy dogs like me come with several benefits, including:
Decreasing your blood pressure

Boosting your mood

Lowering your anxiety and stress

Loosening you up to interact and socialize with staff
Please come see me at Sleep Dentistry Erie for your next dentist appointment with Dr. Kevin Mahoney!