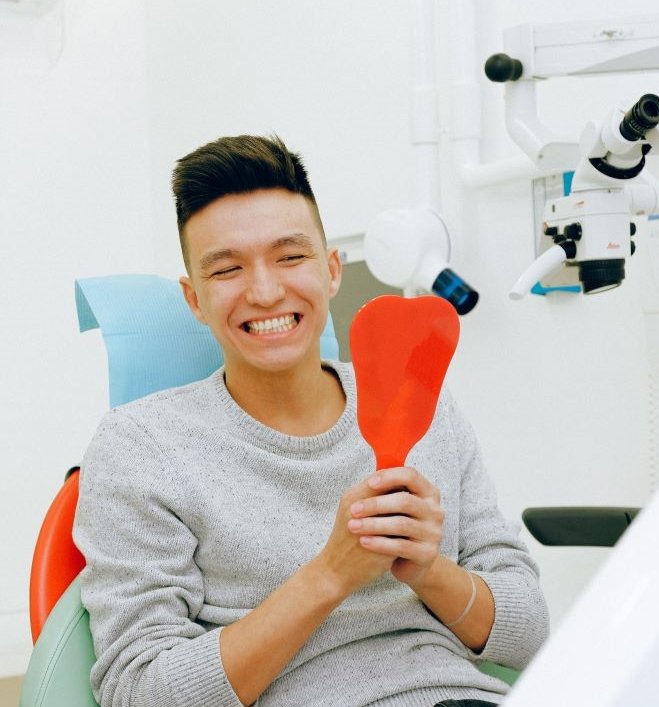 You deserve to look your best, and that includes your teeth. Teeth whitening has become more popular throughout the years, especially with the rise of at-home whitening kits. The overall health of your teeth is no longer the primary reason that people visit the dentist. Now, taking care of your teeth has just as many cosmetic benefits as it does health benefits.
Typically, what you eat and drink is the most common reason your teeth may become discolored in the first place. Coffee, wine, tomatoes, berries, and soda can all be culprits of your yellowing teeth. Lifestyle and health habits can be a factor, too, such as smoking or failing to have a hygienic oral care routine.
Simply put, people are tired of settling for discolored teeth. With technology advancing, and procedures like professional teeth whitening becoming faster and more efficient, you no longer have to settle.
Types of Professional Teeth Whitening
When you're looking to brighten up your smile, it's always a good idea to start by considering your options. The most popular options are in-office procedures and prescribed take-home trays. Scheduling a professional teeth whitening appointment will typically entail determining your desired shade for your teeth, followed by your dentist applying whitening agents for a longer period of time.
Take home trays are where you come in. After your first whitening consultation, your dentist is able to determine how these take home kits can be formulated to optimally whiten your teeth. Perhaps you need a higher concentration of whitening agents, or you may need to use your kits more frequently. Either way, these can give you more comprehensive results.
Benefits of Professional Teeth Whitening
Professional teeth whitening lasts longer
Teeth whitening strips can last for months, but professional treatments can last for years. The upside of going to your dentist's office for a whitening is that the concentration of the whitening materials is much stronger than what you can access with a home kit. At Sleep Dentistry, we offer a Lifetime Whitening Program, which gives you a lifetime of pearly whites for a one-time enrollment fee of only $99.
That being said, the cost of professional teeth whitening could potentially be less over time, especially compared to how many DIY kits you'd need to achieve the same results.
Take home trays designed for you
Many dental offices offer take home trays following a consultation for professional teeth whitening. These trays may sound just like a take-home kit, but they're not. Take home trays are specially designed based on the results of your in-office whitening results and your desired shade of your teeth. Because these take home trays are built from a mold of your mouth, your specific whitening treatment will yield results faster and more effectively.
Skip the tooth sensitivity
A downside of having your teeth whitened can be the sensitivity that comes with it. With professional whitening services, your dentist's tried and true methods don't come with the risk of harmful side effects. No need to worry if whitening agents will touch your gums, tongue, or cheek. At Sleep Dentistry Erie, our team will be attentive to your specific needs and concerns.
Better teeth whitening results
When you choose a dentist over a DIY kit, you're automatically going to get better results. It's better to trust a trained professional dentist with something as important as your teeth instead of guessing with home kits. Sleep Dentistry Erie can ensure that you get the results you're looking for faster, while also keeping your comfort and the safety of your teeth our top priority.
Trust Sleep Dentistry Erie with Your Teeth
Sleep Dentistry Erie has an experienced team of trained professionals. We'll assemble a personalized teeth whitening treatment that's tailored to you. We specialize in dentistry for those who have dental phobias when it comes to making their yearly check-ups.
Consider our Lifetime Whitening Program, which is offered to our patients for a one-time fee of $99.