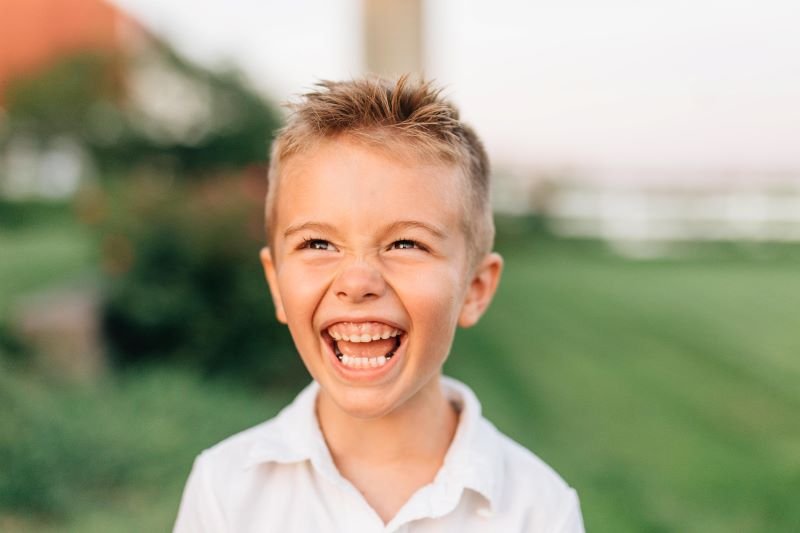 A healthy and beautiful smile is a lifelong gift. It is a gift, however, that only comes after hard work and dedication to healthy habits from an early age. It all starts with choosing the right pediatric dentist. Which, frankly, is a challenge for most parents.
As a parent, it is your responsibility to show your child that dental visits are an important part of a healthy life and facilitate a good relationship they can maintain with their teeth and their dental provider(s) for the rest of their life.
With so many factors to consider, some parents become overwhelmed and ultimately just put off the task instead of working to figure it out.
What's the harm in that? The kid will lose their first set of teeth anyway. You only need to take them to the dentist when they start getting their adult teeth . . . right? Wrong!
Children should start seeing the dentist as infants, when their first teeth are beginning to come in. Choosing a great pediatric dentist is important to establish healthy habits, attitudes around personal hygiene, and build a strong foundation for a lifetime of smiles.
To make the choice easier, consider four main attributes of a pediatric dentist.
1. Consider the dentist's accreditations and experience.
Finding the best pediatric dentist for your family is a challenge. Thankfully, if you know what you're looking for, the herd is thinner, making your decision easier.
Pediatric dentists are different from family dentists. The primary difference between the two is how specialized a pediatric dentist's practice is. Pediatric dentists are specially trained to work on youth patients anywhere between infancy and adolescence.
Family (or general) dentists, on the other hand, work with children on an as-needed basis, not exclusively, meaning they often have less practical experience.
Pediatric dentistry is a specialized practice because the mouths, teeth, and gums of these patients grow and change differently than those of adults. They also require different types of treatment and care.
Not to mention, after years of working with children, pediatric dentists tend to know all of the tricks to help make kids feel comfortable, safe, and cared for — making for a positive dental experience from day one.
2. Is the dental office environment welcoming?
So you think you've found a reputable pediatric dentist in town and are excited to take your child for the first time. Before you rush into making an appointment, consider the environment of the office. Without ever being there, it may be hard to tell what's up with a place, but seeing as it is an important feature, try and go out of your way to see if you can scope out the dental practice.
Ask your friends, family, neighbors, or random stranger at the grocery store if they have ever been or taken their child there. Look at photos on Google My Business and read reviews. If all else fails, perhaps even consider stopping by the office in person to schedule an appointment. This will allow you to figure out what the interior environment is like — and give you the necessary clues to tell how comfortable your child will feel during his or her appointment.
Look for dental offices near you that:
Have a friendly staff, ready to help your child feel good.

Use equipment designed for children such as chairs, mouthpieces, and different toothpaste. This will help your child feel more relaxed because they won't be forced to "sit up like a big kid" to have their gums poked and prodded.

Are inviting in terms of color, lighting, and general atmosphere.

Have a pediatric dentist that is not intimidating and prepared to get down to the child's level if needed.
3. What are the dentist's preventative treatment capabilities?
A pediatric dentist's prime objective is to help children prevent any dental or oral health complications as they grow into adults. They should be pros at preventative treatment.
Here is a look at some of the most important preventative dental treatments for children:
1. Teeth cleanings
Children need their teeth professionally cleaned at least twice a year. This is critical for patients of all ages to remove plaque and other build-up that can cause tooth decay, though for children it is of even higher importance. While they're still learning how to properly brush and floss on their own, they need a professional pediatric dentist to work alongside them to ensure a healthy smile.
2. Mouthguards
These dental appliances are especially important for active kids. When fitted properly by a dentist, they protect teeth from damage that can happen in an instant during child's play.
3. Fluoride treatments
Rinsing with fluoride helps strengthen teeth and enamel, which in turn prevents cavities. Pediatric dentists with appropriate and available preventative treatments will be able to do a fluoride application in-office.
4. Dental sealants
Dental sealants are clear plastic-like substances that, when applied directly to the teeth, fill in crevasses that can collect food particles and bacteria. If left accessible, these crevasses can easily create cavities if not cleaned properly twice a day. Seeing as kids aren't necessarily great at brushing their teeth (especially at a very young age), dental sealants can be a parent's best friend since they help prevent future dental complications.
4. Remember to consider other practical details.
You're a busy parent with a lot on your plate. Taking your child to the dentist shouldn't be the most stressful thing ever. Instead, consider logistical details that will help make adding dental care into your routine easier, rather than harder.
Other practical details to consider when choosing the best pediatric dentist for your child(ren):
Location (is it convenient for you?)

Hours of operation

Is the dentist a pediatric dentist or a family dentist or both?

Does the dentist take your insurance?
Never settle for anything but the best pediatric dentist
Regardless of the rest, you should settle for nothing but the best. Even if everything else looks good, as a parent you should settle for nothing less than a dentist that treats you and your child like family and does everything in their power to make you both feel comfortable while receiving dental care.
And doing just that is Dr. Kevin Mahoney at Sleep Dentistry Erie's main goal. To show you what that means, you're invited to schedule a consultation with him and the staff to make sure that you feel good about making the best choice for your child's pediatric dental care.